Top 10: The Best Addresses for Queer-friendly Fashion and Vintage Shopping in Berlin
When it comes to fashion and shopping, Berlin stands out from many other cities. Luxury brands and department stores are to be found here, of course, just like everywhere else in the world, but what makes Berlin special are the many small, independent boutiques that specialise in individual design and local labels. There is also a thriving vintage and upcycling scene for which Berlin has made a name for itself. We've picked out a few of our favourite places to source the perfect outfit for your Berlin adventure!
Platte
Platte is a brand-new multi-brand store situated directly on Alexanderplatz. It is located in a typical Berlin concrete prefab building (Plattenbau) - hence the name. Here you will find many unusual local labels by innovative and progressive designers who stand out from the trends of the global fashion brands and showcase something very individual. Platte is not only a shop, but also a platform through which Berlin labels are marketed and supported. Last autumn, the shop was ceremoniously opened with a voguing fashion show.
Platte
Memhardstraße 8, 10178 Berlin-Mitte
S + U Alexanderplatz
Website of Platte
Studio Obectra
The Berlin label, Studio Obectra, fuses club outfits with fetish fantasies and doesn't stint on leather straps and metal buckles. In the shop in the middle of Neukölln, there is not only fashion for hot nights on Berlin's dance floors, but also sexy fetish accessories for very special parties. And as befits Berlin, everything on offer is pitch black and sometimes even see-through.
Studio Obectra
Emser Str. 118, 12051 Berlin-Neukölln
S + U Hermannstraße
Website of Studio Obectra
Le Magass
If you're a fan of vintage fashion, Le Magass is the place to go. The small, stylish shop in Neukölln is a stalwart of Berlin's second-hand scene and the stylists have a brilliant eye when it comes to selecting fashion items. One look at the shop's Instagram account inspires us to go shopping as fast as possible.
Le Magass
Reuterstraße 59, 12047 Berlin-Neukölln
U Hermannplatz
Instagram account of Le Magass
The Code
The Code is a fairly new multi-brand store in Berlin that is exclusively dedicated to the sex-positive party world. If you like shopping for at the latest kink-wear, this is the place for you. From leather to latex, from harness to choker, from clubwear to sexy lingerie, from jewellery to sex toys, you'll find everything your wicked heart desires.
The Code
Köpenicker Str. 79, 10179 Berlin-Mitte
U Heinrich-Heine-Straße
Website of The Code
Esther Perbandt
Berlin designer, Esther Perbandt, runs the city's most established avant-garde label and has built an excellent reputation around the world over the past 15 years. Just recently she made it to the finals of Heidi Klum's 'Making the Cut' fashion design show and became the new darling of judge Naomi Campbell. In her eponymous Berlin boutique, you will be transported into her universe of black and experience her signature style for yourself.
Esther Perbandt
Almstadtstraße 3, 10119 Berlin-Mitte
S + U Alexanderplatz
Website of Esther Perbandt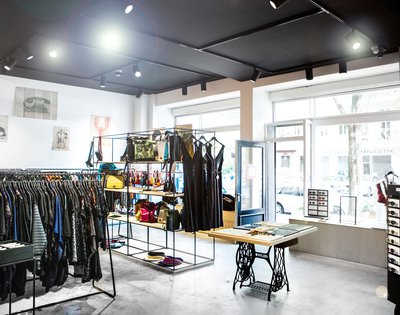 B Spritz
The concept store, B Spritz, in the popular Weserkiez in Neukölln, stocks a variety of creative Berlin labels. Not only fashion is for sale, but also underwear, jewellery, bags, and accessories. There really is an abundance of things to discover here.
B Spritz
Friedelstraße 34, 12047 Berlin-Neukölln
U Schönleinstraße
Website of B Spritz
Bikini Berlin
There, is of course, an abundance of malls in Berlin, but none is as unique as Bikini Berlin in the close vicinity of the zoo. Here, the shopping mall has been completely reimagined, because there are no big fashion chains, only selected boutiques, and brands. A special recommendation goes to the multistore brands Studio183 and LNFA, as well as the really unusual Kantini food court, which is a multi-sensory experience.
Bikini Berlin
Budapester Str. 38-50, 10787 Berlin-Charlottenburg
S + U Zoologischer Garten
Website of Bikini Berlin
Coexist
Upcycling is a big issue in the Berlin fashion world and that's why Coexist, one of the best addresses for upcycling fashion in Berlin, cannot be omitted from our list. So, if you like unusual, progressive, and especially sustainable fashion, you should definitely stop by here and dive into the colourful world of Coexist.
Coexist
Simplonstraße 6, 10245 Berlin-Friedrichshain
S + U Warschauer Straße
Website of Coexist
ReSales
If you like to hunt for vintage treasures, you should take a good look at the ReSales chain of shops. They are by no means the only retail outlets of their kind in Berlin, but they are definitely the most popular among Berlin's second-hand hunters. With a little patience and luck, you might even find rare designer pieces at reasonable prices.
ReSales
More than 10 branches all over Berlin
Website of ReSales
Trüffelschwein
Trüffelschwein ('truffel pig') is Berlin's best menswear boutiques with a wide selection of international labels catering for diverse styles. The selection of pieces is carefully considered, with great attention given to detail and high quality. The personal customer advisory service in the shop makes the shopping experience particularly enjoyable.
Trüffelschwein
Rosa-Luxemburg-Straße 21, 10178 Berlin-Mitte
U Rosa-Luxemburg-Platz
Website of Trüffelschwein
Additional information
Boutique owner Mavin Le Magass also talks (in German) about vintage and fashion in the Place2be.Berlin podcast. In addition, he reveals why he was so keen to open his shop in Neukölln. Listen in!
And this is how you get there: The Queer City Pass gives you a ticket for public transport - and on top of that a great discount with lots of partner companies!
Subscribe to Place2be.Berlin's Instagram channel for the latest info and impressions from Berlin!
The Place2be.Berlin city map shows you interesting queer locations all over Berlin.
You can find a complete overview of all events for every single da on the event pages of SIEGESSÄULE, Berlin's famous queer city magazine.
Words: Frank Schröder