Queer summer highlights in Berlin
These are the queer Berlin highlights in summer 2021
Many queer events will be taking place in Berlin in summer 2021. Here are the ones you shouldn't miss!
There's a sense of optimism in the air! Friends are meeting outside queer bars and pubs to enjoy drinks on balmy summer nights. Restaurants are currently serving their best dishes. And the sound of thrumming beats is emerging from the first clubs. The city is on its feet again and is noticeably breathing a sigh of relief.
One thing is clear: the summer of 2021 is clearly different from that of last year. Some events will have to remain on ice, therefore new ones have emerged instead. Many events will take place outdoors, but that's preferable for summer activities anyway.
CSDs
The streets in the queer neighbourhoods are already packed. However, soon there will be even more going on! Several CSD events are planned this year. On 26 June, several smaller demonstrations are due to move through various Berlin neighbourhoods simultaneously. They will all culminate at Alexanderplatz in Mitte, the central meeting point.
This star demonstration will also mark the start of a four-day CSD week from 26 to 29 June.
CSD e.V., which organises Berlin's largest CSD, has organised a street demonstration for 24 July. All participants will be on foot - trucks will not be permitted this year. The starting point for the demonstration will be at Nollendorfplatz in Schöneberg and the demonstration will start at 12 noon. You can access a lot more up-to-date information on the various CSD events in 2021 in the SIEGESSÄULE's CSD special!
Additional street festivals
Currently, the fetish street festival, Folsom Europe, is planned for 11 September, albeit on a somewhat smaller scale than in previous years.
The Lesbian and Gay Festival ("Lesbisch-Schwules Stadtfest"), on the other hand, was unfortunately cancelled this year - the Stadtfest team is planning a big comeback for 2022.
Parties
Berlin is a queer party city. Lesbians, gays, bisexuals, trans, and intersex people can party here to the music they like best - from rock to techno. The first event organisers and clubs have also announced an outdoor programme for the summer of 2021. On 18 July 2021, for example, the lesbian-queer party WET will celebrate in the garden of ://about blank in Friedrichshain. Once a month, DJ Sara Moshiri will be issuing an open invitation to the Queer Garten at Festsaal Kreuzberg, an event put on for the entire LGBTIQ* community. And every Sunday, on the roof of Weekend at Alexanderplatz in Mitte, the weekend is brought to a festive close at the gay party, UP. You can find many more party dates in the SIEGESSÄULE calendar!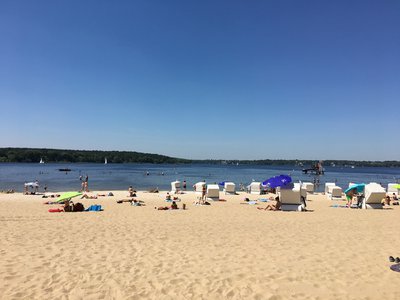 Outdoor pools and swimming pools
Summer 2021 will be a legendary outdoor summer to remember, something for which Berlin is famous. There are countless clear lakes in and around the city, where you are guaranteed to be able to cool off. When the weather is good at the weekend, the Wannsee Lido has long been popular among gay men. But queer meeting places are also to be found at Teufelssee lake in Grunewald and at Schlachtensee in Zehlendorf. Both lakes are especially crowded at weekends and in the evening.