The Berlin CSD season 2021: colourful, local and diverse
The 2021 CSD season is jam-packed. This is quite remarkable, given that the queer scene was still debating in spring this year whether gay prides would be able to take place at all, due to the Corona crisis. But the opposite is the case: numerous events have been lined up throughout the summer. Many of them are smaller than the official CSD in pre-Corona years, but more 'kieziger', as Berliners would say - they're more local, and therefore closer to the respective communities and issues.
Trans Pride Berlin: for physical self-determination
Under the motto 'Being trans is beautiful. Being trans is diverse!', the Berlin Trans Pride demo will start at 2pm on 10 July 2021 at Gleisdreieck station, located between Kreuzberg and Schöneberg. It will then proceed through the Bergmannkiez district of Kreuzberg and end with a rally at around 6pm at Südstern.
"Physical self-determination is something wonderful and must be celebrated accordingly," according to the organising team, when they advocated for the demo. Everyone from the various trans* communities is invited, regardless of whether they are non-binary or binary, gender-non-conforming or gender-conforming, queer, bi, lesbian, gay or straight, disabled, or able-bodied. In short, everyone is invited, and so are all trans-allies. Pride and self-esteem will be the main focus at Trans Pride.
Trans Pride Berlin
U Gleisdreieck, Berlin-Kreuzberg
10 July 2021, 2pm
https://www.facebook.com/
Marzahn Pride: CSD in the East
Marzahn is often considered as not being a queer area. But the impression is deceptive: despite prefabricated slab buildings and standardised architecture, there is a lot of queer life here. Marzahn is home to one of the largest Russian-speaking communities in Germany. That's why the organisations 'Quarteera', which represents Russian-speaking LGBTIQ*s, and 'Lesben Leben Familie (LesLeFam)' have organised Marzahn Pride for the second time. Konstantin Sherstyuk from 'Quarteera' has reported on the very positive feedback after the first Pride. Particularly in the Russian-speaking community, Pride is about the visibility of LGBTIQ*, because in many Russian-speaking countries the current LGBTIQ*climate is very difficult.
The Marzahn Pride has been planned for 17 July 2021. The organising teams cordially invite all queers and straight allies to participate. This year's Pride will kick off with an opening speech by the organisers at Helene-Weigel-Platz and will end at Raul-Wallenberg-Platz. An accompanying social media campaign under the hashtag #marzahnliebt was launched on 17 June.
Marzahn Pride
Helene-Weigel-Platz, Berlin-Marzahn
17 July 2021, the exact time to be confirmed
https://www.marzahn-pride.de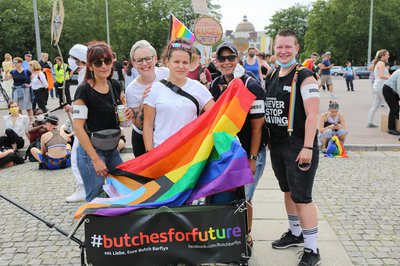 Dyke* March: for lesbian visibility
The Dyke* March traditionally takes place in Berlin one day before CSD. The demo has one main goal, namely to create lesbian visibility within the community and in the public at large. Besides all lesbians, everyone who is part of the supporting community and who advocates for human rights is invited to the demo.
This year, the demo will start on 23 July 2021 at 7pm at the Brandenburg Gate. As the evening draws in, the protesters will march along the Unter den Linden boulevard towards Alexanderplatz and then through Kreuzberg, before ending at Mariannenplatz. However, this is far from the end. A big party has been scheduled for later that evening and will continue into the night. DJ and organiser, Sara Moshiri, invites everyone to the Dyke* Garden in the Festsaal Kreuzberg. Here, too, the large lesbian community and all supporters are invited.
Dyke* March
Brandenburger Tor, Berlin-Mitte
23 July 2021, 7pm
https://dykemarchberlin.com
CSD Berlin: demo on foot instead of parade trucks
Last year, queer activist Nasser El-Ahmad organised a small CSD, as a so-called emergency programme in place of the big CSD, which was cancelled due to Corona. Nasser is now a member of the CSD committee. This year, Berlin's CSD has drawn on his experience from 2020. This year, CSD Berlin has been pared down compared to previous pre-Covid years. It will take place as a so-called 'protest march' on 24 July 2021, as a march on foot without the customary, large parade trucks. However, five vehicles have been planned for the hosting of speeches and musical events. The meeting point is at 12 noon, on Leipziger Straße between Charlottenstraße and Axel-Springer-Straße. At around 1 p.m., the demo will move towards the Brandenburg Gate. It will continue along Straße des 17. Juni to the Siegessäule, then past Lützowplatz to the Urania, where the demo will end. This year, the CSD will thus proceed in the opposite direction to the traditional route it usually takes.
The organisers are not planning a big closing rally at the time being. Hygiene and security procedures are also being drawn up with the relevant authorities. The CSD motto this year is 'Save our community - save your pride'.
CSD Berlin
Strausberger Platz, Berlin-Mitte
24 July 2021, 12 noon
https://csd-berlin.de
Pride-Wochen Lichtenberg: Viele Events außerhalb des S-Bahn-Rings
Not only in the often-underestimated Marzahn has a lot been going on this year, but also in the neighbouring district of Lichtenberg, where a whole series of queer events have been in the calendar since June that will be running until August. This year, a separate 'Lichtenberger AG Queer' was founded, which has organised the Pride weeks together with the lesbian initiative, 'Lesben Leben Familie (LesLeFam)'.
As part of the diverse programme, films will be screened at the Trabrennbahn Karlshorst, among other vebues. On 23 July at 9 pm, for example, 'Rocketman', the film biography about Elton John, will be shown. Also at the racecourse, there will be a queer summer festival on 21 August from 4 pm. Afterwards, there will be a screening of the film 'Girl' at 9 pm.
Pride Weeks in Lichtenberg
Trabrennbahn Karlshorst and other locations
Various dates in summer 2021
https://www.siegessaeule.de/
Further information
And this is how you get there: The Queer City Pass gives you a ticket for public transport - and on top of that a great discount with lots of partner companies!
Subscribe to Place2be.Berlin's Instagram channel for the latest info and impressions from Berlin!
The Place2be.Berlin city map shows you interesting queer locations all over Berlin.
You can find a complete overview of all events for every single da on the event pages of SIEGESSÄULE, Berlin's famous queer city magazine.
Text: Michael G. Meyer