Berlin for Lesbians: Tips from Cafés to Parties by DJ Sara Moshiri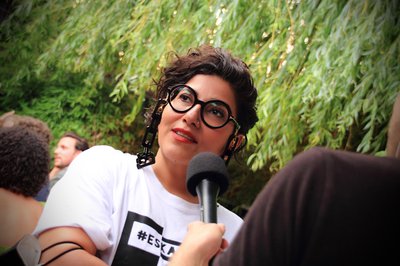 DJ and event organiser, Sara Moshiri, lives in Berlin-Wilmersdorf but travels all over the city. On Place2be.Berlin, she reveals her favourite cafés, restaurants, bars, and parties for lesbians and friends!
Dancing at SchwuZ
SchwuZ is my favourite club - I can't imagine Berlin without SchwuZ! Since it was founded in 1977, SchwuZ has moved several times, and is currently located in Neukölln. I really like the friendly atmosphere there, I'm always saying hello in all directions – "Hello" here, "Hello" there. At SchwuZ, DJs play different genres of music on three dance floors. If they play 80s on one floor but you don't like 80s music, you can just go to the house floor or to the pop floor. Colourful and mixed, that's typical SchwuZ, not only when it comes to music. So, go and check it out as soon as it's allowed to re-open!
SchwuZ
Rollbergstraße 26, 12053 Berlin-Neukölln
U Rathaus Neukölln
SchwuZ website
Party at Berlin's most famous lesbian party
I really hope that 'L-Tunes' can take place again soon and that the organiser still feels like organising the party. Because at 'L-Tunes', which always takes place at different locations, women can simply feel safe and comfortable without being hit on, uninvited. 'L-Tunes' is a lesbian party, but best friends are welcome.
L-Tunes
Changing locations
L-Tunes website
Experience alternative club culture at ://about blank
I can highly recommend ' ://about blank' to all travellers to Berlin. The numerous, fabulous parties at '://about blank' feature electronic music throughout. The location itself is queer-friendly and alternative and it also has a lovely garden, which I like a lot. A left-wing scene meets here, because it's anything but a stuffy club for which you have to dress up - a T-shirt and tracksuit bottoms are more than enough. It's a club where you can simply have fun, exchange ideas, and feel free!
://about blank
Markgrafendamm 24c, 10245 Berlin-Friedrichshain
S Ostkreuz
://about blank website
Chatting with friends at Möbel Olfe
Also at Kottbusser Tor is the small bar, Möbel Olfe. On the roof of the high-rise building in which it is located, you can still see the original lettering of the ex-furniture shop 'Möbel Olfe', which gave the bar its name. However, if you stand directly in front of it, you won't be able to see it, but you can recognise the bar by the 'Homo Bar' poster in the window. With its rough style and non-papered walls, 'Die Olfe' is typically Berlin. On Tuesdays, many women and lesbians meet there. It's ideal for just chatting!
Möbel Olfe
Reichenberger Straße 77, 10999 Berlin-Kreuzberg
U Kottbusser Tor
Möbel Olfe website
Good, inexpensive food at Kottbusser Tor
Directly on Kottbusser Tor in Kreuzberg, the Südblock beer garden offers not only drinks, but also delicious food, at reasonable prices and of good quality. The atmosphere is really queer and colourful. Südblock is one of the best-known, queer meeting places in Kreuzberg - even though the area is in one of the rougher corners of the city, at least at first glance.
Südblock
Admiralstraße 1-2, 10999 Berlin-Kreuzberg
U Kottbusser Tor
Südblock website
Relaxing with a coffee at Café Berio
From my flat in Wilmersdorf it's only a short walk to the Regenbogenkiez in Schöneberg. When I want to have a coffee with friends during the day, I like to sit down at Café Berio on Maaßenstraße between Nollendorfplatz and Winterfeldplatz. I like the atmosphere there – and I know almost all the staff personally! Sitting outside on the terrace, I love watching everyone walking by. I am always thrilled to see how different people are. This diversity is simply great!
Café Berio
Maaßenstraße 7, 10777 Berlin-Schöneberg
U Nollendorfplatz
Café Berio website